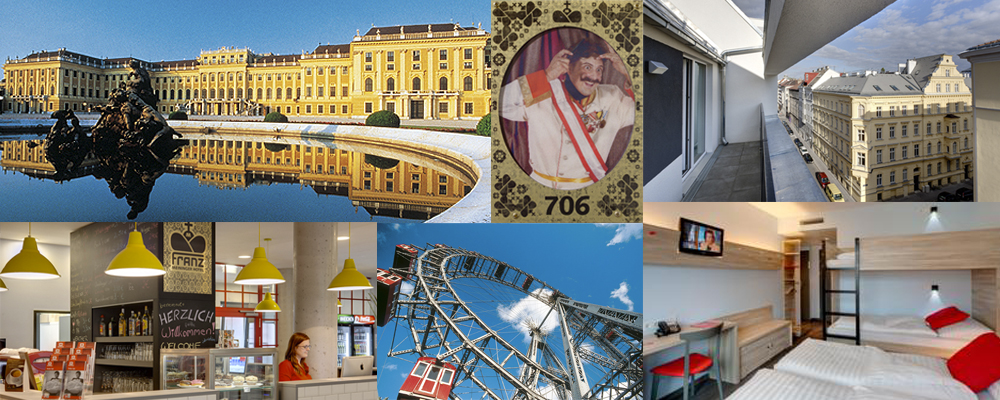 Enjoy your stay in Vienna at the brand new MEININGER Hotel Downtown Franz just a few minutes walking distance from the inner city!
Wonderful modern 4 to 6 bed rooms with bathroom, including a feast of breakfast buffet and free WiFi in the Lobby (also available in the rooms)!
The Downtown Hotel Franz is named after the last great emperor of the Austrian monarchy Franz Joseph I who was married to even more famous empress Elisabeth of Austria, or short called Sissi. The turbulent lives of Sissi and Franzl were ideologically exaggerated but magically realized in the movies of Ernst Marischka in 1955
(Sissi 1, 2, 3).
Check it out and get into the right mood for your Vienna-trip!
Rembrandtstraße 21, 1020 Wien
//
Social 1: FAMOUS SCHNITZEL & Beer
It's the great reunion! Enjoy Vienna's fine Schnitzel (choice of pork or turkey) with fries, potatoes, rice or salad together with a cool Krügerl beer while we'll all be happy to see each other again. Of course a vegetarian alternative will also be served.
Social 2: RUSTIC Saturday
Enjoy old fashioned viennese kitchen at Augustinerkeller in the heart of Vienna close to the State Opera! A feast for body and mind!

Social 3: PARTY NIGHT all over Vienna
Explore the great viennese nightlife just like you prefer!

Social 4: Sunday SIGHTSEEING
You'll come to Vienna. You will see and taste Vienna. We will provide you with a unique opportunity to see the beautiful and famous places in Vienna like no other tourist ever did!